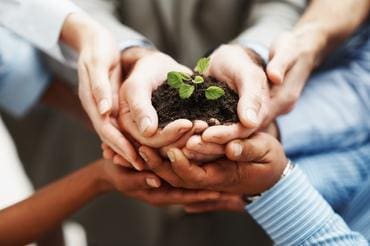 We – Lou, James and Phil – shaped the summer series on Faith for our morning gatherings. We sat one evening and wondered what we could create. We chatted about our dreams for our gatherings and what sort of journey we could create for us all as we explored faith.
It became clear what we didn't want to do but also what could be – what would it be like if we created a series that would cause us to engage with faith from the moment we stepped into the meeting place? What could we do to ensure we acted with faith on a Sunday morning?
It also became clear that we have a healthy mix of wanting to create a space for people to be challenged, inspired, informed, disrupted, welcome, and ultimately to feel validated and more able to live well with the challenges and opportunities that come with having faith and being faithful in this strange life. 
So our creative juices flowed as we thought about the first few minutes of our gathering – encouraging people to come 30mins earlier, taking our shoes off, reflecting on questions to prepare for encounter, giving the musicians time and space to take us further in worship with music – raising the question of "how can we start something we're not supposed to finish?"  
We were aware that summer means people can be absent, and thereby feel disconnected in various ways – communally, personally, publicly – so we wanted to find ways to embrace and connect, to intentionally move up a gear rather than getting to September and regretting 6 weeks of apathy!
So we engaged with a different structure for encounter – a 4-person panel talking about faith and fear; seminars on impacting our city, big challenges, money, justice, hope & love, character; talks that gave shape to our faith journey. These opportunities gave people in our community an opportunity to share their experiences, perspectives and wisdom. However the desire for us all to walk by faith was palpable in these sessions – a faith that is founded, focused and fashioned on the person of Jesus.
We know it was a short, focused series but we'd hate to think we've boxed the whole "faith thing" now – we hope we've got some threads that we can continue to weave with. 
What's next? We guess that's totally up to us – individually and collectively. We loved serving this up and have been challenged, gently and profoundly.
In terms of the meeting format, wethink we made some interesting and helpful changes that were appropriate and challenging for the times, but we'd be devastated for anyone to think they either preferred one way or another, or that a way of doing something becomes commonplace because it "worked" once before. 
Family – let's keep stepping out in faith!
Lou, James and Phil 
https://revelation.org.uk/wp-content/uploads/2018/08/images_seedsoffaith_2.jpg
246
370
Phil Harper
https://revelation.org.uk/wp-content/uploads/2020/10/Revelationfamilylogo_side-copy-2.png
Phil Harper
2018-08-27 07:25:41
2018-08-27 07:25:41
Seeds of Faith are Always Within Us